If you have access to a large freezer, buy large bags of flours and nuts to save money and time.

Keeping them in a deep freezer will mean a MUCH longer storage time.

More sensitive people should consider buying whole grains and nuts, subsequently grinding all items in their own home.

Be aware that many nuts and flours contain *some* gluten contamination (many bulk food stores are often not aware of the "may contain wheat" clause on the base of the large bags of rice flour they order in).

Even Aria Life has limitations regarding what is available on the market. Presently, our flour has a "may contain wheat clause" but we are working to find a supplier that can offer us a purer version of rice flour.

In our home, we use nuts that "may contain wheat" because that's all we have access to. We have found that washing them seems to eliminate negative symptoms. More sensitive people may not find this to be sufficient.

Please know that we are constantly working to find new products that are 'more gluten free' than ever!
© 2011 Aria Life Quality Enhancement. All rights reserved.
Almost ten years of dealing with extreme sensitivities gives us the knowledge required to help you with your plan.

Special diets (gluten free/dairy free/sugar free, etc.):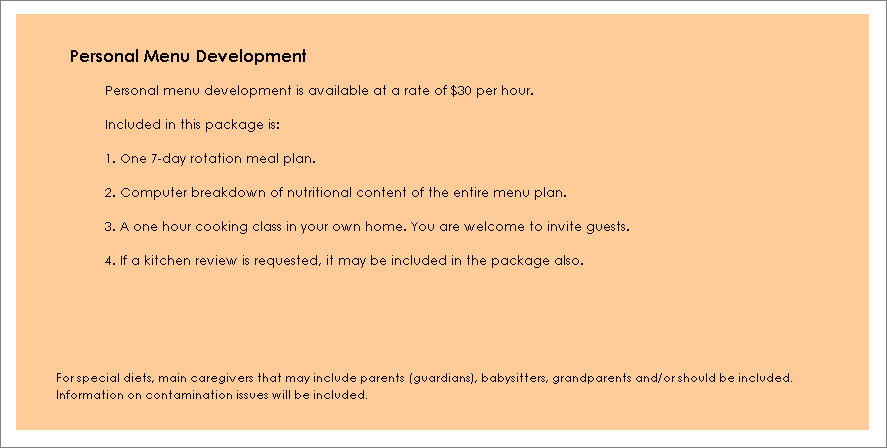 Once this plan is established, it is then reviewed by your personal medical consultant (physician, dietician, etc.) before implementation.

Note: All menu plans should be brought to a personal qualified medical consultant for authorization before implementation.
RAW FOOD LUNCHES

DIPS
guacamole
nut butter
salsa
fig cookie filling
date cookie filling

DIPPERS
celery sticks
carrot sticks
cauliflower
broccoli

MIXES/FINGER FOODS/SNACKS
cashews, raisins, banana chips
nuts
salted/seasoned nuts
LaraBars

ASIAN LUNCH MENU

MAIN DISH
Kimbob

SOUP
Spicy Thai Vegetable Soup

DESSERT
Almond Rice Cookies

GREEK LUNCH MENU

MAIN DISH
Lemon Chicken

SOUP
Aveglemono

DESSERT
Honeyed Shortbread Cookies

Kitchen Organization, Cleaning Services, Contamination Consultation, Cooking Lessons
This page is presently under construction.
Personal Lessons